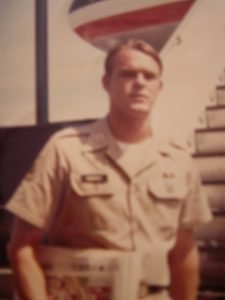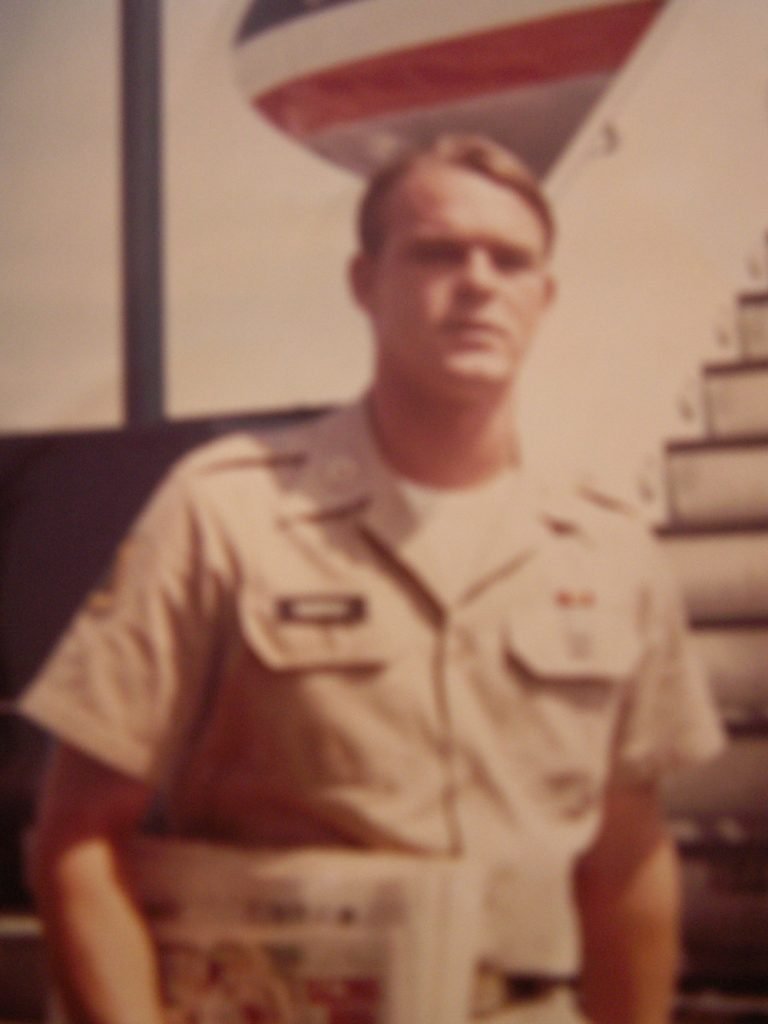 William Murphy

Born in Dorchester into a Four Corners family, I grew up in Weymouth, the hometown of George Jung the central figure in the Hollywood movie Blow. A political science major at American University in Washington, D.C., during the years 1966 through 1970, I experienced the national impact of the riots, assassinations, the war on crime, civil rights activities and antiwar demonstrations firsthand. In December 1969 in the Draft Lottery, I received a moderate draft number; in 1970, anticipating the draft, I enlisted in the Army Security Agency as a linguist and served in Viet Nam until the last thirty days of the war, leaving Viet Nam February 26, 1973.

Read the rest of Bill Murphy's extraordinary biography here.
LETTER TO MY PAST SELF
Remember:
Dad had a distinguished military service in the 774th Tank Destroyer Battalion in Patton's Third Army for which he was awarded a Purple Heart and Bronze Star. Dad regaled us with his war stories, but his stories did not glamorize the service or his service. Most times he narrated self-deprecating fables to impress his impressionable two sons of the badness of mankind, the horrors of battle, and the importance of individual salvation – practically and metaphysically. The Third Army has been recognized as performing superhuman feats roaring across France and Germany to save Allies from a defeat at the Battle of the Bulge – superhuman because the American soldiers rallied themselves every day for over nine months of battle to liberate captive towns from another vision of superhumanity. Thereafter, I learned that General Patton also linked fear, battle, discipline and self-respect. "No sane man is unafraid in battle."
President Kennedy spoke in June 1963 at the Berlin Wall seeking peace and justice.
In June 1963 the President forwarded civil rights legislation to Congress.
In June 1963 televisions showed the first of Buddhist monks burning themselves to death in protest of the repressive American supported government in a distant place Viet Nam.
In June 1963 Medgar Evers was shot in the back by an Enfield 1917 rifle in his driveway protesting unjust segregation in an American supported government in faraway Mississippi. An Army veteran of WWII, Medgar is buried in Arlington National Cemetery not far from Uncle Joe.
Only two months into high school, I was in Gerry Swanson's Algebra class, when we all heard over the loudspeaker that JFK had been assassinated, the first time many of us saw an adult cry.
As of that day, the number of Americans killed in Viet Nam was 108.
The question is not necessarily where you were when JFK was killed; ask instead, "What did you do afterwards?"
On June 21, 1964, James Chaney, Andrew Goodman and Michael Schwerner were murdered in Philadelphia, Mississippi. They were in their twenties.
In March 1965, Viola Liuzzo, mother of five, was shot to death while driving a carload of fellow civil rights workers in Montgomery, Alabama..
On March 16, 1965, activist Alice Hertz burned herself to death in protest of the Viet Nam hostilities.
In September 1965 Barry McGuire's Eve of Destruction came out; the Kingston Trio's Where Have All the Flowers Gone lamented that which had "gone to graveyards, everyone".
Riots in American cities became a summer staple – Harlem and Brooklyn, Patterson New Jersey and San Francisco in '64, Watts and Chicago in '65, over twenty in '66. Almost every riot had a component involving the police as a trigger or justification.
I never used drugs and I never drank. As folksinger Dave Van Ronk said, "We were having the time of our lives. We were hanging out with our friends……and we were laughing all the time."
I heard increasingly about a War in distant Viet Nam, the world's third poorest country. Vietnamese culture always valued family before the State. In the First Century AD two sisters, the "Hai Ba Trung", unsuccessfully led a rebellion of the Vietnamese people against the dominant, invading Chinese. Japanese occupation forces had been vanquished in World War II. The French colonialists were defeated in what was called the First Indochina War. By the end of 1965 there were 184,000 US troops, by the end of 1966 there were 385,000, and by the end of 1967 there were 486,000 and over 15,000 had been killed. To the Vietnamese peasants, the Communists were somewhat of them – not the historically detested Chinese, the recent enemy French, the distant Russians, or the pale and ugly Americans.
On February 8, 1968, RFK spoke at the Book and Author Luncheon in Chicago, quoting Lord Halifax that hope "'is generally a wrong guide'." RFK noted that the Tet Offensive had obliterated illusions of the true consequences of the war, "the austere and painful reality of Vietnam freed from wishful thinking, false hopes and sentimental dreams. We must realize the illusion that "unswerving pursuit of victory, whatever its cost in in the interest of either ourselves or the people of Vietnam. We must remove ourselves from the illusion that American interest is properly associated with the selfish interest of an incompetent, corrupt regime and that this war can be settled on our own terms."
In February 1968 students demonstrating in Orangeburg, SC were fired upon, with three killed and thirty-three wounded. Students.
On February 29, 1968, the National Advisory Commission on Civil Disorders, the Kerner Commission, released its report on the 1967 riots, with its memorable finding that America "is moving toward two societies, one black, one white – separate but unequal".
In February 1968, the Senate Foreign Relations Committee held that the incidents in the Gulf of Tonkin occurred completely opposite from the version relied upon by the government in requesting Congressional, and national, approval to retaliate against North Vietnam. And to send more American troops in the future.
On April 4, 1968, Martin Luther King was assassinated. I was working the first-floor desk in the dorm when Maurice, a blind, black classmate came by. "Boy, you white guys really fucked up this time, Murph."
"Maurice, buddy, I'm on your side."
It was pretty chilling sharing that moment with a truly colorblind human.
Soon, 13,600 Federal troops began to move into the city, the first time since the Civil War such a military force occupied an American city.
That night Bobby Kennedy made a heartrending extemporaneous speech to the blacks of Indianapolis.
The commercial sections of DC were obliterated during days of intense rioting.
On April 6th in Washington, D.C., a rioter Oscar King shot a firearm indiscriminately, hitting one car and killing his sister who happened to be riding in the vehicle. After six days of rioting in DC, twelve were killed. When I finally emerged from sheltering in place on campus, I observed machine gun nests on the corners of the Capitol. In Chicago eleven were killed and an extraordinary number of police officers, ninety, were injured. Across the country a total of thirty-eight deaths were reported. In 1998 CNN reported that Washington DC was still recovering from the property damage of the '68 riot.
On June 6, 1968, I was playing whist with friends when my long-time political hero and my hope were extinguished. At 144 am, RFK, a Presidential candidate, forty-two years of age, was murdered.
In his documentary, Vietnam Ken Burns called the Summer of 1968 "the most consequential in US history".
On December 1, 1969, it was standing room only again in the TV room of the dorm this time for the high stakes draft lottery for which we all had an important stake.
Canned Heat's suggestion in Goin' Up Country to 'Jump in the water stay drunk all the time' seemed to be good advice.
On May 1, 1970, a history graduate student began plans for protest by burying of a copy of the US Constitution on the grounds of Kent State University. Three days later four kids were killed at Kent State. Kids.
On May 9, 1970, at Jackson State College two were killed and nine wounded. More kids.
Ernest Gruening in the Forward to his autobiography complained "my lifelong optimism was assailed by doubts about our country's – and indeed mankind's – future, an apprehension intensified by the events of the 1960's".
They say that only 12 % of male college grads saw service in Viet Nam and only about 9 % saw combat. We were all trying to play our percentages, in our individual ways. Our own lives. Now what? How could I plan for the future when the future depended on dates of birth inside bouncing capsules and changing politics and war maneuvers on the other side of the world?
I was not sure that Saint Gaudens' inscription on the Robert Gould Shaw Memorial noting that the Colonel gave up everything for the Republic is applicable to all wars. Surely Achilles questioned the integrity of his commander and the principles underlying the war for which he gave so much of his life,
You will need to blend fear, discipline, courage and self-respect to stand up for what is right – to and for you.
It is all intertwined – the sanctity of life – humanity.
Remember to learn and learn to remember. Remember that you know a lot of this already, you just were in a different place when you learned it. Apply the remembrances and the learning to your place now, your Now Place.
Consider Robert Frost's poem, "Into My Own", especially the last two lines.
One of my wishes is that those dark trees,
So old and firm they scarcely show the breeze,
Were not, as 'twere, the merest mask of gloom,
But stretched away unto the edge of doom.
I should not be withheld but that some day
Into their vastness I should steal away,
Fearless of ever finding open land,
Or highway where the slow wheel pours the sand.
I do not see why I should e'er turn back,
Or those should not set forth upon my track
To overtake me, who should miss me here
And long to know if still I held them dear.
They would not find me changed from him they knew—
Only more sure of all I thought was true.
Bill Murphy
William Murphy Full Bio
Born in Dorchester into a Four Corners family, I grew up in Weymouth, the hometown of George Jung the central figure in the Hollywood movie Blow. A political science major at American University in Washington, D.C., during the years 1966 through 1970, I experienced the national impact of the riots, assassinations, the war on crime, civil rights activities and antiwar demonstrations firsthand. In December 1969 in the Draft Lottery, I received a moderate draft number; in 1970, anticipating the draft, I enlisted in the Army Security Agency as a linguist and served in Viet Nam until the last thirty days of the war, leaving Viet Nam February 26, 1973. During a twenty-five year career as a Special Agent by the United States Treasury Department's Bureau of Alcohol, Tobacco and Firearms, I participated in many high profile, nationally reported, historic cases. I worked undercover for one year in the Combat Zone, Boston's red light district. In 1980 I solved a homicide in Boston's Chinatown which became a pivotal event in the Federal prosecution of James J. "Whitey" Bulger documented in Chapter 10 of Whitey Bulger by Kevin Cullen and Shelley Murphy of the Boston Globe. I was a member of the Boston Arson Task Force where I was instrumental in solving the largest arson case in United States history, the subject of the book Burn Boston Burn by Wayne Miller. During the epidemic of violence in the early 1990's, I brought to justice the largest firearms trafficking case in Massachusetts history (five Dorchester co-defendants) resulting in a dramatic reduction in the murder rate in Boston. For the last three years of my career, I served full time on the FBI's Joint Terrorism Task Force. After retiring in 2001, I served for nine years as an Intelligence Analyst for ATF's National Integrated Ballistic Information Network servicing the six New England states. In March 2011, in retirement, I provided evidence to the FBI Violent Crime Task Force which arrested two suspects as they were robbing a bank in Boston's North Station; the suspects eventually pleaded guilty to four bank robberies in Massachusetts and one twenty-seven year old cold case murder in Oakland, California. From the day after my retirement, I have tended bar for a number of high-end caterers serving the rich and famous in Boston including glitterati on Beacon Hill, the World Champion New England Patriots, and the Kennedy Compound in Hyannisport. Since 2005, I have worked pro bono for the Isabella Stewart Gardner Museum on the investigation into the largest property crime in United States history and the largest art theft in world history, commonly called The Gardner Heist. For two years I mentored inmates at the Norfolk County Jail under the auspices of the Retired Senior Volunteer Program (RSVP). In April through August 2018, I participated in a roundtable retrospective on the Year 1968 which was an award winning four-part series in the Quincy Patriot Ledger newspaper ( 50 years ago, a reckoning in Vietnam – News – The Patriot Ledger, Quincy, MA – Quincy, MA.) I am active in the UMass Boston Jointer Center for the Study of War and Social Consequences and through the Joiner Center learned of the Clemente Veterans Initiative with which I have taken courses in Dorchester (2), Seattle (2), and Springfield – in person and virtually. My wife, a nurse for the Boston Healthcare for the Homeless, and I have five grown children and are actively involved in nurturing our ten grandchildren.