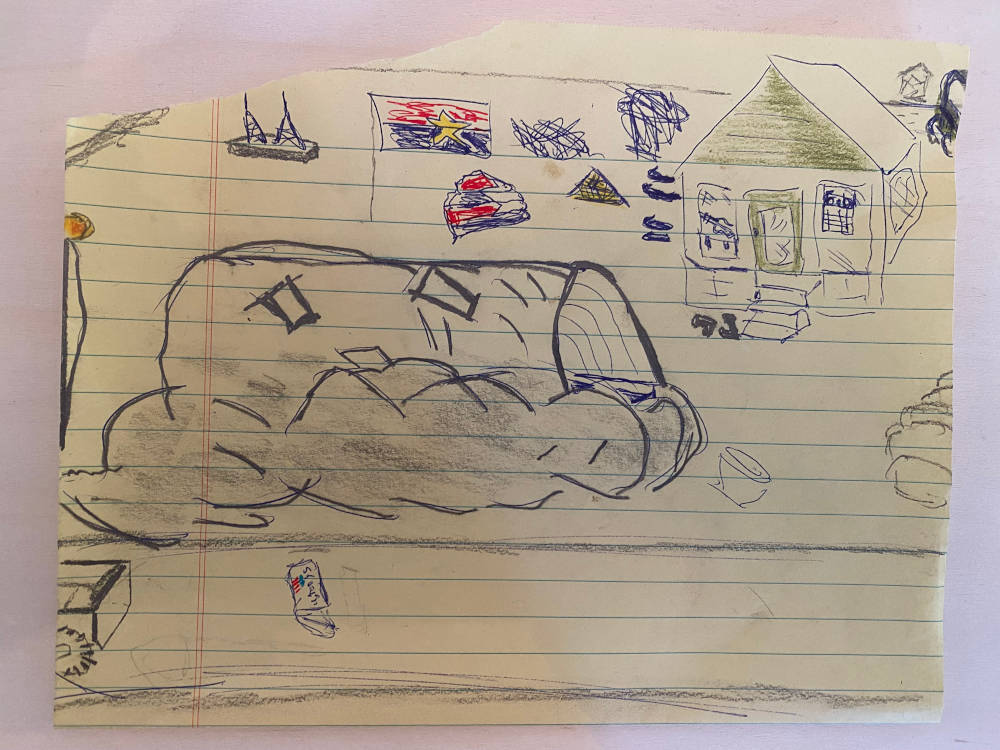 How to "cover" or describe the Rocket Attack
Issues – movement of or into space.
I. Original assignment by Lucas – sketch out
Hootch
Bunker (room for front and back
Foreground and Background.
C E N T E R; focus
Go back and reposition and size. What to highlight.
The Hootch
The Bunker (emphasis; the opening is centered left and right, up and down).
The Jeep
Inside hootch, visible on right calendar "Feb" (My space.)
Inside hootch, left, guitar on bunk, used primarily to play Chicago's "Saturday in the Park" by Mexican bunkmate from Houston.
Front door, spring latch, thin screen, like Mrs. Piper's, Alton Bay, Lake Winnepasaukee, NH,
Boots on ground
Bunker (oversized). Light cup on ground.
Left margin, flagpole (flagless)
Jeep, partial i.e., on the move. Stars and Stripes in road, LEFT BEHIND.
Upper right corner (deuce and a half truck, parked to rear of hootch, unloading or unloaded)
To left of hootch, starting from side:
Sandals on ground
(crossed out) pith (I could never say or draw pith) helmets.
Conical hat
Flagpole displaying NVA flag, pile of dress uniforms ready for parading
Far left – radio antennae
Movement from the Hootch to the Jeep goes thru the bunker.
Check "narrative" facts for accuracy.
Time:
Davis Station – named for Spec 4 James T. "Tom" Davis, ASA Radio Research Grp from Tennessee.
December 22, 1961 Tom Davis killed in VCV ambush 12 miles northeast of Saigon; the First – Uniformed – Enlisted – Combat Death (at least one of the early one's. (cf Fitzgibbons from my hometown the FIRST – UNIFORMED – ENLISTED – DEATH (i.e., non combat – killed by a fellow serviceman, stateside called a homicide.
December 6, 1972 rocket attack on Tan Son Nhut airbase.
53 days later
January 28, 1973 Paris Peace Accords
February 1973 enlisted men, including Spec 5 Murphy assigned to cleanout hootches for prospective new residents. (At least different than Kurt Vonnegut's detail.)
February 26, 1973 Spec 5 William Murphy onto a Jeep, from Davis Station, to Camp Alpha, to DEROS back to Oakland for Separation from service.
March 30, 1973 all US troops out of Viet Nam.
North Vietnamese Army delegates move into quarters at Davis Station; soon complain about conditions!! See recommended video re NVA at Davis Station – audio not recommended, however. https://www.youtube.com/watch?v=7d0zUlrAElY
April 29, 1975 NVA overrun Saigon and the Republic of Viet Nam. The first broadcast of the fall of Saigon was made from equipment at Davis Station.
After I left, no American servicemen deaths.**
Taken from the triple entendre title of Pulitzer Prize winner author Tracy Kidder My Detachment (Random House, New York, 2006), a memoir of his Viet Nam service in with the Radio Research Group (ASA) in June 1968.
"detachment" 1. A small body of special purpose troops.
2. Separation from a larger mass usually without violence or damage.
3. Indifference to worldly concerns,
** From Paris Accords until final pullout March 28, 1973 ten US servicemen killed.